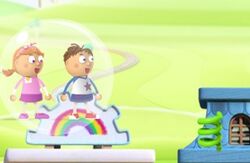 It's Time To Chime! is an online game on Nick Jr.com
The player must control Tommy and Tallulah to chime time and help Hopparoo collect springs so he can reach a carrot, help Madame Au Lait collect ingredients for her oaty cake, and help Mc Coggins collect cogs and tools so he can fix the clock.
Tooteroo makes a few cameos in this game.
The giant bubble from the episode "Bubble Time" and the online game "Bubble Trouble" appears as a platform so Tommy and Tallulah can reach high buildings.
Ad blocker interference detected!
Wikia is a free-to-use site that makes money from advertising. We have a modified experience for viewers using ad blockers

Wikia is not accessible if you've made further modifications. Remove the custom ad blocker rule(s) and the page will load as expected.